I LE LIT ET LA LAMPE (LAMPAN OCH SÄNGEN) spelar möbler från en atelje i Paris huvudrollen i ett drama om kärlek, existens och längtan. Både huset och möblerna har 60-talsprägel.
I första scenen snurrar ett ensamt svart skrivbord runt i (graciösa) snurrar. Skrivbordslådan åker ut och in igen (lipar). Efter skrivbordet kryper en rutig filt (barnsligt ömkligt). Snart fylls scenen av flera möbler: en svart gallonfåtölj, ett staffli, en liten brun bokhylla m.fl som skyndar fram, runt (irar). En liten träpall kilar fram fortare än de andra större möblerna.
I mitten står en svart golvlampa stilla (förstenad). De andra möblerna försvinner en efter en. Kvar står golvlampan (ensam).
Andra scenen: Den svarta golvlampan tänds och släcks, cirklar runt. Den sträcker sig utåt men hindras, hålls tillbaka av sladdens längd (springer åt olika håll)(försöker hitta en utväg). Scenen klipps snabbt av och repeteras.
En enkel säng utan madrass uppställd mot väggen gör entré. Sängen kan bara röra sig längst väggen. Sängen och golvlampan närmar sig varandra men retirerar snabbt (som det brukar vara). Det hela upprepas. I en sekvens står de alldeles intill varandra, i en annan tränger sängen in lampan mot väggen. (blygsel, tvekan, åtrå).
De möts och snurrar runt med varandra ömsom nära ömsom (nonchalant) frånvända. Sängen sjunker (lättjefullt) ner mot väggen. Spelet fortsätter dem emellan.
I sista scenen är lampan ensam igen. (Letar efter sängen, efter någon, desperat). Golvlampan försvinner ur bild. Sängen glider in och rör sig längst väggen fram och tillbaka. Snurrar runt (dansar, drömmer).
Videon spelas först framlänges sedan baklänges osv i olika hastigheter i en ständig oändlig loop. Videon är 6 minuter lång. Musiken är gjord av Heera Kim Seoul, Sydkorea.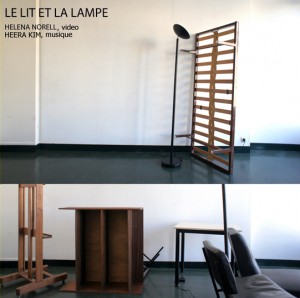 In LE LIT ET LA LAMPE the furniture from a studio in Paris, starring in a drama about love, existence and longing. Both the house and furniture has a 60 century flair.
The first scene a alone black desktop is spinning around in (graceful) turns. A drawer in the black desktop is going in and out (sticking out its tongue). After the desk a plaid blanket is creeping (childishly pitiful).
Soon the scene is filled with more furniture: a black fake leather armchair, an easel, a small brown book case and others who rush forward, around (slightly lost). A small wooden stool move more rapidly than the other larger furnitures.
In the middle stands a black floor lamp stationary (petrified). The other furniture disappear one by one. The floor lamp remains (alone).
Second stage: The black floor lamp turns on and off, circling. It extends outward but is hampered, held back by the cord length (running in different directions) (trying to find a way out). The scenes consisting of quick cuts that are repeated.
A single bed with no mattress erected against the wall makes its entrance. The bed can only move along the wall. The bed and floor lamp come closer together but retreat quickly (as it usually is). In a sequence they are next to each other, in another the bed pushes the lamp towards the wall. (shame, doubt, desire).
They meet and spin around each other (casually) alternately close alternately creating distance The bed drops (lazily) down against the wall. The game goes on between them.
In the last scene, the floor lamp is alone again. (Looking for the bed, looking for someone, desperately). The floor lamp is removed from the scene. The bed moves back and forth along the wall. Turns around (dancing, dreaming).